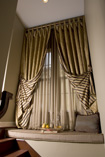 Consultations: Meet with client to review the specific project, both in scope and dimension. Determine compatibility between client and designer. Discuss then design philosophy employed by the designer and the expectations of the client.

Space Planning: Discuss lifestyle of client to determine traffic patterns in the home. Draft appropriate floor plans with specifications for furniture placement as well as flooring design and layout.

Upholstery: Design upholstery styles for sofas, chairs and bedding. Select appropriate fabrics to correlate together and will blend with wall colors to create a pleasing color palate. If re-upholstery is desired, arrange for pick up and delivery of items.

Furniture: During project review, determine what pieces of furniture client would like or need to keep, if any. Select furniture design that best fits their lifestyle and the design of the home.

Draperies: A rendering, or drawing is done to determine style and fabric is selected to compliment both the design of the drape as well as correlate with the room.

Wall Coverings: Wall coverings are determined on a room by room basis. Both designer and client decide which rooms or areas would best benefit from paint, faux paint, or wallpaper.

Accessories: Accessories are selected to compliment the room as it has individually developed. All lamps, floral, art work, vases, candles, crystal, etc. are personally selected to best enhance the ambiance of the design and the client's personality.

Blinds: We offer a complete selection of blinds for your windows. Shutters, roman shades, wood blinds, verticals and almost anything manufactured for the window.

Painting: To find out more about Faux finishes, please visit Up Against The Wall

Mission Statement: To fuse a relationship with the client that will result in the creation of a unique environment, univocally suited to the clients personality and lifestyle.